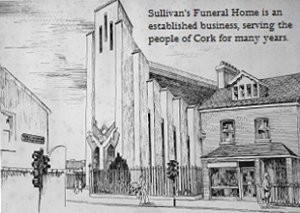 Sullivan's Funeral Home is a long established business, serving the people of Cork for many years. In 2007 Charles Sullivan sold the business to the Forde family (Forde's Funeral Homes Ltd) who have been in business for over 90 years. The business still trades as Sullivan's Funeral Home, Turners Cross and The Forde family are committed to providing a compassionate, respectful and professional service to all our clients at their time of loss.
Our staff consists of dedicated professionals whose primary concern is the comfort of families requiring our services.
Individual families are given our undivided attention and every effort is made to ensure that the funeral service is meaningful and personal to the family concerned.
We encourage families to spend some time with their deceased relative / friend in the comfort of our private reposing rooms / chapels of rest, which are designed to create a peaceful and tranquil atmosphere. Our premises can comfortably cater for large or small gatherings and we also provide on site parking facilities.
There has been a return to the tradition of waking at home. A family may wish for the deceased to be waked at home for a night or just a few hours.
We will facilitate, plan and advise on all aspects if it is the family wish for deceased to repose at their home.
Member of The Irish Association of Funeral Directors.
Member of British Institute of Embalmers.
Member of the Professional Embalmers Association
Member of the National Association of Funeral Directors
FETAC Level 5 Accredited, CFP Certificated in Funeral Practice